I joined IDEO Singapore in September 2015 and was there until it's closure in December 2016.
I transferred from the London office to help expand Singapore's digital capability and worked on numerous projects from Digital services apps to helping to design a new MRT station with the Land Transport Authority.
 
How might we design the MRT experience to make public transport lovable?
We were challenged with envisioning the future of the MRT station. Singapore has designed a public transport system that is almost flawless but its relationship with the commuter is cold and disconnected. IDEO was tasked with delivering a vision of the future in which the station is not only a gateway to Singapore but also a destination and integral part of Singapore's culture.
Part of the envisioning involved the digital intergration we forsee in Singapore's future, This led us to design 'The MRT companion'. MRT companion is a fully intergrated service application designed to link with all the facilities that make this new station a lovable destination.
We focused heavily on the story-telling side of the app. Showcasing through film, what the app might look like in the context it's designed for.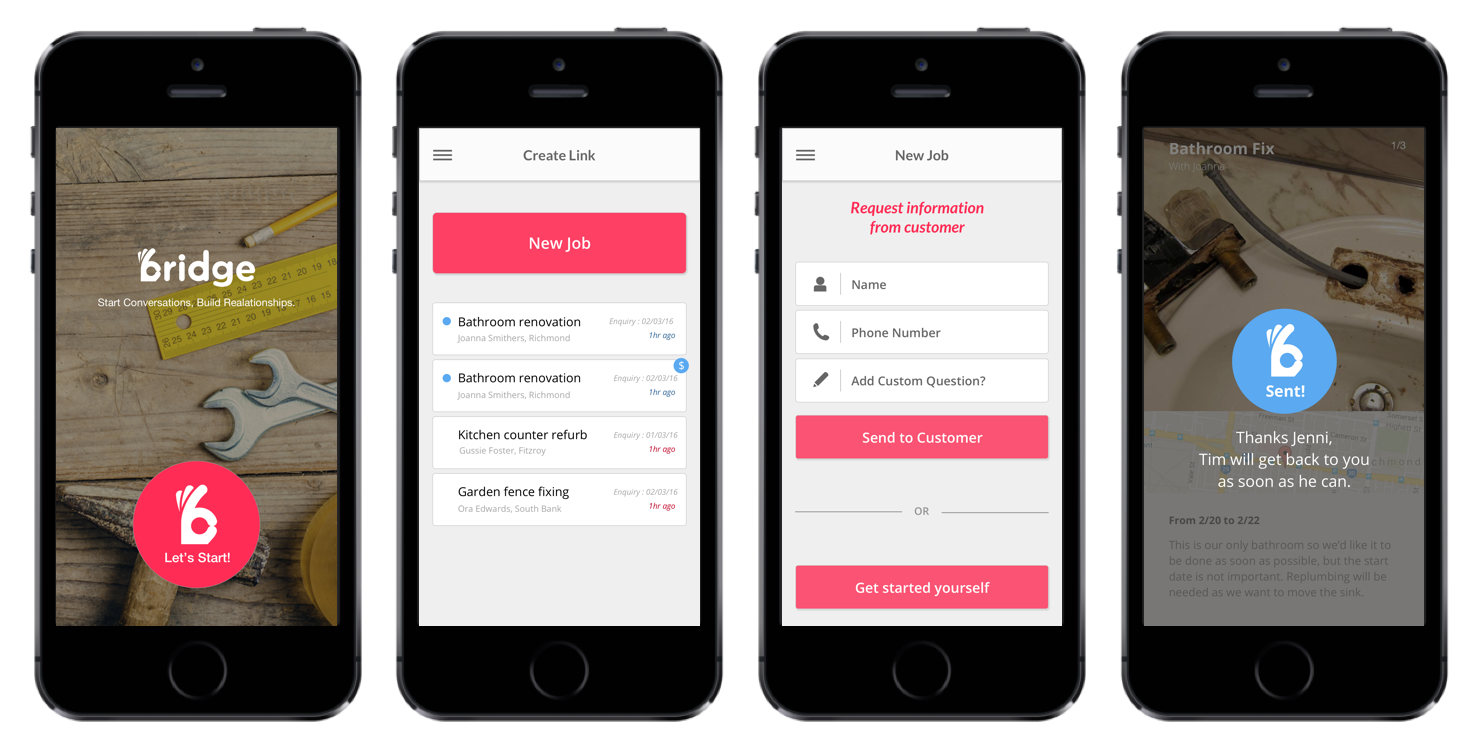 How might we make it easier for tradesmen to support and engage with customers?
 
Bridge, the software solution that helps tradesmen sort admin quickly, so they can get down to business The Bridge software solution offers a suite of products that tradesmen can access, to help them quickly and confidently cost projects, invoice and get paid, by putting an emphasis on frequent, rich communications with clients from first phone call to last invoice.
The project team researched, designed and developed 'Bridge' over the span of four months. When the project finished, we left the client with a 6 month plan with wireframes, a business model and a brand strategy. We helped them secure $2 million dollars in funding to develop their native app and web platforms for the entire suite of 'Bridge' software.
How might we enable Singaporeans to take ownership of their retirement planning?

Two out of five of Singaporeans feel they aren't prepared for retirement but over 80% of those people are confident 'things will work themselves out'. Our team was asked to dig deeper into the Singaporean retirement mindset to better understand how our client's products and offerings could be redesigned to better enable their customers to take ownership over their own retirement.

This project was split into two, the first identifying and exploring the value proposition and the second designing and prototyping what later became DBS's FutureMe platform.
The Roost
In between projects, I was part of IDEO Singapore's team supporting new startups looking to use design as a way to solve new and interesting problems. The Roost was a program in collaboration with The Working Capitol co-working space to mentor startup teams to use Design Thinking to approach their complex problems.

I had the opportunity to work closely with Astronaut, to help explore the future of Recruitment through a new innovative interviewing platform based completely on mobile phone interviewing.